Creating an email account on the internet has become a risky process nowadays. With so many hackers and data breaching attempts taking place every day, it has become very easy to hack into email accounts like Gmail. Therefore, how different is Netaddress in this regard?
To know more about this ancient email messaging service, continue reading this Netaddress review down below. Here, I have explained what some of its key features and its primary pros and cons are.
Netaddress Features
Some of the best features of Netaddress that have made it popular amongst its users for almost three decades are:
1. Storage
Like other email service providers like Gmail, Netaddress has capped storage for all its users. Here, all users who sign up will get 1GB of standard storage space for storing all emails. However, you can pay more and upgrade your storage space to 8GB. 
2. Protection
Netaddress touts to have some of the best protection against malware and threats of all kinds. Its storage protection system is up at all times, protecting your account from spam mail and phishing attacks. In addition, this email service automatically detects spam emails and deletes them instantly. 
3. Mail Management Tools
We all receive hundreds of emails daily, especially if we are professional employees working with many clients. Therefore, to help you manage your emails and categorize your emails, Netaddress has various email management tools in place. This enables you to filter emails according to sender and type, helping you search for older emails easily. 
4. Customer Support
Netaddress has a dedicated customer service team in place to help you solve all your queries and problems. However, it's important to note that they are not just simply chatbots. Therefore, you can contact them only at certain times of the day. 
The website says you can contact their customer support team between 7 am and 6 pm on weekdays. This line will be active on weekends from 7 am to 4 pm.
How To Create A Netaddress Email Account?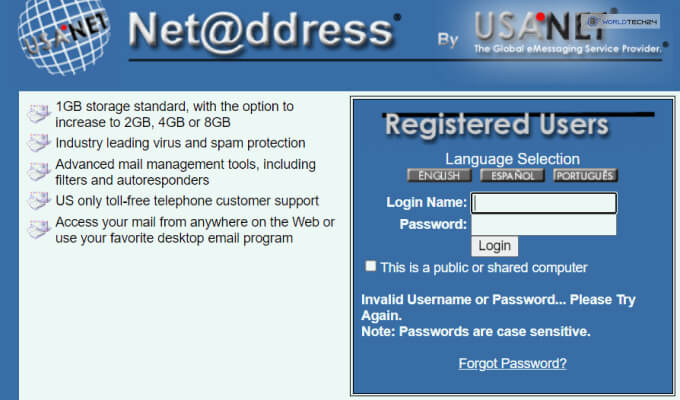 If you wish to create an email ID on Netaddress, there are quite a few steps you need to follow. Therefore, to create a Netaddress email login account, you need to:
First, turn on your internet connection and open up your favorite browser.
Next, go to the website www.netaddress.com.
Click on Register
Now, you have to provide a username and password for your account
Click on Create Account to finalize the details and complete the process
Benefits And Drawbacks Of Using Netaddress
If you plan to Netaddress login daily, how will it help you out compared to other email services like Gmail? After using it for quite some time, here are my honest impressions of its primary benefits and drawbacks. 
Pros
Some of the main Netaddress advantages that you can benefit from are:
1. Lots Of Storage Space
Netaddress provides lots of storage space. While initially receiving 1GB of storage space, you can upgrade it to 8GB. Gmail offers storage space with your Google Drive. After using Netaddress, I can say that 8GB is enough to last years.
2. Excellent Customer Support
The Netaddress customer service team is pretty friendly and knows what they are doing. After inquiring about a few features of this service, they could tell me what to do in the most cohesive manner possible. The fact that they wasted no time in telling me what to do and getting my problem solved impressed me.
3. Easy Accessibility
Since you can open Netaddress from your browser, you can access it anytime from any browser on any device. You can access it from any browser on your PC or from your smartphone as well. In addition, since the web page does not have various graphical designs and has a simple and minimalistic design. This makes the web page load up pretty fast on your browser, similar to the likes of Kdramahood.
4. Virus And Spam Protection
In my opinion, the virus and spam protection of Netaddress is pretty remarkable. I received various spam emails from various sources, which were automatically transferred to the spam folder. Also, compared to Gmail, it filtered out spam messages more effectively since many of them would not have been marked as spam by Gmail, even if they were. Therefore, you no longer have to learn how to lock messages on iphone to get protected. 
Cons
Some of the primary Netaddress disadvantages that I faced are:
1. Long Server Downtimes
Netaddress loads up faster than most other email services, like Gmail and Yahoo Mail. As a result, the messages you receive might take some time to load up in your inbox. I was disappointed to see it appear in my inbox after ten to fifteen minutes. I was able to deduce the fact that the servers are slow.
2. Paid Email Service
One of the biggest drawbacks of Netaddress is the fact that, unlike most other email services, it is paid. Here, you have to subscribe to its services. You can either pay monthly or with discounted plans comprising three and six months, along with an annual plan. This, in my opinion, is one of the biggest reasons that most people do not wish to use Netaddress. 
3. No Smartphone Apps
While Netaddress might be pretty accessible to users because it is easily loadable in most web browsers, it lacks a smartphone app. Most email services like Gmail have their own dedicated smartphone applications that you can download on your Android smartphones and Apple iPhones and iPads. Having a smartphone app would have helped users because Netaddress is paid. 
FAQ (Frequently Asked Questions):
Many people have asked questions related to Netaddress on the internet, the likes of which are:
1. Is Netaddress Legit Or Scam?
Ans – Netaddress is not a scam. It is a legit email messaging service hoisted by usa.net. Therefore, you can safely trust this service and create an account here.

2. Is Netaddress Free?
Ans – Netaddress is not a free email service compared to most other email messaging services. While it was initially free when it was first launched in the early 1990s, it's not free anymore. You need to have a Netaddress subscription to use this service.

3. What Is The Netaddress Phone Number For Contacting Customer Care Services?
Ans – There are two different Netaddress customer service phone numbers. They are:
• Phone: (919) 228-2582
• Toll-free number (US only): 800.448.4374
Final Verdict
Netaddress is a pretty solid and secure email address you can use in 2022. In my opinion, it is pretty safe and secure compared to the likes of Gmail. It also provides better spam filtration and email management too.
However, the biggest con of using this service is its long server downtimes and its paid subscription model. On the other hand, Gmail offers lots of features and is completely free. Therefore, choose whether you want to pay money to use Netaddress or not.
READ MORE: