Sometimes, video games are not always about high-paced car chases and brutal action. Often, they can be just calm and chilled video games geared more towards social interactions than decapitating enemies. This makes Sky: Children Of Light a unique video game.
If you are tired of playing games where you constantly are in action, then this game is for you if you are interested in chilling out and playing a "social" game, head over to the Apple App Store or the Google Play Store, and download this game.
Read this Sky: children Of Light beginner's guide to learn what to do when there are no enemies to kill.
What Is Sky: Children Of Light?
Sky: Children Of Light is a so-called "social" open-world video game created by Thatgamecompany. This game is also known as Sky, which is as per shown on the main menu. It is one of the best android games of all time. 
The basic premise of this game is pretty simple. You and your friends (if you play coop) need to explore an ancient kingdom that was once thriving and prosperous. Your objective – free the spirits that are still trapped in this mortal realm.
However, you do not need to walk long distances to find these spirits in the open world. I mean, why would you walk when you can fly?
All players have access to a magical cape (similar to the one used by Doctor Strange). This cape gives you the power of flight. You must learn how to use this cap to fly around the overworld and free spirits by completing quests for them. 
You cannot fly indefinitely. Similar to the stamina system of Genshin Impact, you have limited stamina to glide around. This is why it is important since completing them increases the level of your cape. You know how to fly longer in this game.
The Seven Realms
The open world is divided into seven realms. Each realm is different, having its own unique themes. This thematic representation makes each realm based on the seven stages of life, as explained by William Shakespeare.
The Seven Realms of Sky: Children Of Light are:
Isle Of Dawn
Daylight Prairie
Hidden Forest
Valley Of Triumph
Golden Wasteland
Vault Of Knowledge
Eye Of Eden
However, when you first start this game, you start at a place called Home, a place separate from the realms. This acts as the game's hub area, where you can see and meet other online players.
Sky: Children Of Light Beginner's Tips And Tricks
The best Sky: Children Of Light tips and tricks for new players are:
1. Light Every Candle That You See
Candles are some of the most important items in this game. When you explore this game's various realms, you will encounter many red candles. You have to light these red candles to be guided to the next direction you need to go.
Therefore, keep a lookout for these red candles, which are often hidden in plain sight. Lighting these candles gives you candles in return, the primary currency of this game. It also points you to spirits you must rescue and other important landmarks and locations you need to visit.
2. Free The Spirits That You Come Across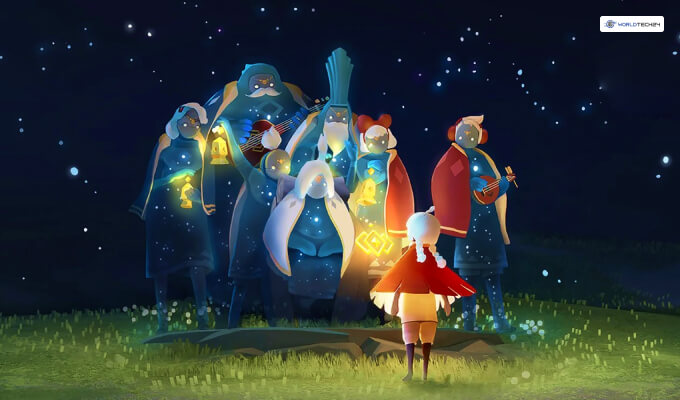 In each realm, there are many spirits that you will come across. Your main objective in this game is to free all the spirits. Each time you see a spirit on the open-world map, it will be glowing and will be marked by rays of light shooting upwards like a pillar.
When you interact with these spirits, you have to play a minigame where you need to chase the spirits. This happens over a distance and in the beautiful landscapes of the realm. 
After successfully chasing them down using your amazing flying skills, you will earn an Expression (emote). Then, free all spirits and unlock the Temple of the Realm, signifying the completion of primary activities in that realm. 
3. Find The Children Of Light
The titular Sky: Children Of Light is exactly what they are named after. When roaming the realms of this game, you will come across these Lights that take the shape of a small child. These are by far the most important things to collect. 
Collecting these will increase your flight energy if you are hidden in various nooks and crannies of the open-world realms. You have limited flight energy when you start the game at the first realm – the Isle of Dawn. Collect more of these Children of Light to increase it. 
4. Earn Rewards By Completing Daily Quests
When you log into the game, the very first thing that I suggest you do is complete the daily quests. You can find these quests by going to the Isle of Dawn and finding an NPC close to its starting area. 
Completing these daily missions will reward you with Light Essences (fixed) and seasonal candles. After completing the quests and collecting rewards, visit the merchant spirits near the same area. You can trade these essences and candles to unlock new outfits, making yourself more fashionable.
5. Learn What's New In Each New Season
Like other multiplayer games like Call Of Duty Mobile and League Of Legends: Wild Rift, there are many seasonal events in Sky: Children Of Light as well. Each season introduces new quests and storylines that give players new rewards. 
Each new Season also introduces players to new gameplay mechanics. These include the diving and swimming mechanics introduced in Sky Children Of The Light Season Of Abyss.
6. Make New Friends
Sky: Children Of Light is a social game at its core. Here, you are supposed to meet other players in-game and become friends with them. Therefore, gather your friends, send them friend requests, and go hunt for the Children Of The Light together. 
FAQ (Frequently Asked Questions):
Q1. How Many Days In Sky Children Of The Light Seasons?
Each season in this game lasts anywhere between 70 to 90 days, typically at the 80 days mark. Currently, the Season Of Performance is going on, which is the game's thirteenth season.
Q2. When Was The Sky Children Of The Light Switch Release Date?
This game was first released for iPhones and iPads in July 2019. Then, it was released for Android in April 2020, followed by its Nintendo Switch release in June 2021.
Q3. When Will The Sky Children Of The Light PC Version Come Out?
So far, the PC version of this game has not been released yet. However, thatgamecompany plans to release a Windows and iMac version shortly.
Q4. What Are Some Other Games Like Sky Children Of Light?
If you are interested to play games like Sky: Children Of The Light, then some other recommended games are:

• Journey (the prequel to Sky)
• ABZU
• Monument Valley
• Cloud
• Alto's Adventure
• Alto's Odyssey
• Flower
Conclusion
Sky: Children Of Light is a fantastic game that every gamer must play. It's a social game that is best enjoyed playing beside friends. 
Travel the beautiful open world, see gorgeous vistas, fly around mountains and between valleys, and free the Children of Light spirits. Also, don't forget to have fun while you are at it.
I hope that this Sky: Children Of Light beginners guide helped you find the answers to some of your questions if you have some more, comment down below and read our other guides here at Worldtech24!
More Resources: