Mobile games were always one of the best pass times for kids to adults. The games have evolved a lot due to many different things, such as the introduction of technology, gaming devices, faster ram, and many other things.
However, standing in 2022, the most driving factor for the gaming industry is the pandemic. Due to the pandemic, most people got stuck in their homes. So, to pass the time and have some entertainment after work, many people picked mobile games.
Mobile gaming is the best choice for people who do not have desktop or laptop access. Needless to say, the gameplay is much easier on mobile compared to other gaming devices.
But it is very hard to choose the games to play in the initial stage. So, we will help you out and provide the names and brief about the best 10 games. Make sure to stay with you until the end to find out the best mobile games.
List Of Top 10 Mobile Games To Play in 2022
Fortnite
PUBG Mobile
Pokemon Go
Minecraft
Genshin Impact
Among Us
Hitman Go
Pokemon Unite
League Of Legends Wild Rift
Marvel Future Revolution
Now that you know the names, here is some information about the games that you need to know. It will help you choose the best offline games for Android and get an excellent experience.
1. Fortnite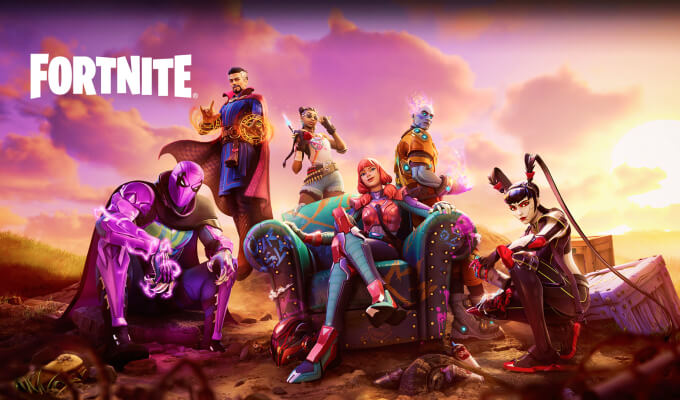 First, on the list, Fortnite is one of the best mobile games that you must have heard of. The mobile gaming industry has changed a lot in the last few years. First, the introduction of PVP games started to steal the spotlight, and this is one of those games.
Fortnite is a survival PVP game where you have to survive on a map until the timer ends. There will be 99 other real players on the map that you have to beat to come to the top. You can apply strategies and showcase your skills to become the sole survivor.
The game is available for mobile; you can download it from the Epic Games store.
2. PUBG Mobile
Even if you are not a gamer, you sure have heard the name of PUBG. It is one of the most popular mobile games that has been ruling the gaming industry for the past few years. But, even if you haven't heard the game's name, this is something that might help to jog your memory.
"Winner winner, chicken dinner."
When it comes to choosing phone games, this is the first game that you need to keep in mind. It is similar to Fortnite, but some features and gameplay are different. Compared to Fortnite, the graphics are also much more realistic in PUBG.
3. Pokemon Go
Do you not want to get into the battlefield and eliminate other players to win? Well, this game might be the perfect option for you. You will not miss out on battles, but there are options to avoid fighting and enjoy other things in the game. The game on mobile is based on the Pokemon show that came to many cartoon channels.
Compared to all the other games, this one is very different. With the help of the map, camera, and some other functions of a smartphone, you can catch pokemon. It gives the real-life pokemon catching experience with the map and camera use.
The hype of this game made people go out with their devices to capture some rare pokemon and battle with other players at gyms. Try to play the game without the help of Pokemon Go spoofer. 
4. Minecraft
When it comes to choosing the world's no 1 mobile game, Minecraft is sure a hard competitor to beat. Since the launch of the game, it has been on the top of people's minds. To this day, the game is played by plenty of gamers all around the world. New players are joining every day to play this game with friends.
If you want to make a list of the top 10 games, Minecraft will be there for the next few years. Make sure to try this game if you want to have a very good gaming experience. You will need time to learn how to make a TV in Minecraft, how to make a saddle in Minecraft, etc. However, you will learn them eventually. 
5. Genshin Impact
Do you want to play a game that is driven by heavy graphics, good characters, and nice customization? Try Genshin Impact!!! 
It is one of the games that comes with a very good storyline and mind-blowing graphics. The game is available for both PC and mobile. Developed by Shanghai Miha Touring Film Technology Co. Ltd.
Apart from PC and mobile, there are some other consoles available like Playstation, and Nintendo Switch, where you can play this game. It is one of the best Android games you can try to get a good experience with.
6. Among Us
During the lockdown, a game started to become very popular. Yes, the name of that game is Among Us. With a very good storyline, this game won the hearts of millions of players worldwide.

Without any groundbreaking graphics or action, this game is still very interesting. However, there are plenty of things that will make you fall in love with this game. Unlike all the other games, this one is fun and comes with a very good detective vibe.
Sure, the game can help you get a very good playing experience. The game became the world's number one game for a long time.
7. Hitman Go
If you are familiar with the gaming industry, you must have heard the name Hitman Go. It is considered to be one of the best Android games that you can play with your friends. Many games have been released during the lockdown to help people relieve all the stress.
Square Enix did their part to make the lockdown a bit more enjoyable by making the game free of cost for the users. On both Android and iOS, the game was nearly $5.99, and it became free during the lockdown. 
Just like the PC version, you have to complete missions in the mobile version as well. In a nutshell, It is a puzzle game, where you have to assassinate enemies based on their movement patterns, and other details.
8. Pokemon Unite
Have you played League Of Legends? Pokemon Unite is a similar game that comes with many characters. It is a group PVP game, where you can play with other players and earn points. You will be randomly assigned to a team with other players like you. Together, you have to collect the points and kill the other team. Whoever gets the 100 points first wins!!!
You can choose any Pokemon to play the game and make some good strategies. From the popular ones to others, there are plenty of Pokemons available that you can choose to play. Each of these Pokemon comes with different abilities and skills. Unlock new characters and play with them to beat your opponents. 
9. League Of Legends Wild Rift
When it comes to choosing the number one game for mobile, there are many competitions. League Of Legends is one of the games that has always been there. Just like the last one, you can choose a character and go to the battlefield. You can invite your friends to be in a group or join another group to battle the other group.
You have to reach the other side and destroy their pillars on your way. Beat the players of the other team and collect all the points to win. The first team to grab all the points gains the victory. If you want to get a very good gaming experience, try League Of Legends Wild Rift. 
10. Marvel Future Revolution
There are several Marvel games available that you can download from Google Play Store. Most of the games offer a very good experience. However, other Marvel games started to lose their popularity after the arrival of the Marvel Future Revolution. It is the sequel to Marvel Future Fight. You can see a huge change in the gameplay, graphics, and other details of the game.
There are some superheroes available that you can choose to level up and play the game. Choose your favorite character and do all the offline missions, online missions, PVP, and others. Apart from that, the customization options are huge in this game, which makes it very awesome.
Fans are claiming this game to be the world no 1 game, play the game to find out why it is known to be the number one game.
Frequently Asked Questions:
Q1. What Is The Most Fun-Free Mobile Game?
Here is the list of top free games given below.

• Dungeon Faster 
• Pokemon Go
• Dadish 2 
• Genshin Impact 
• Pokemon Go
• PUBG Mobile 
• Pokemon Unite 
• Marvel Future Revolution  
• Pokemon Unite
• League Of Legends 
• Fortnite
• Minecraft
Q2. Which Is Mobile Best Game?
Some best mobile games include Genshin Impact, Shadow Legends, PUBG Mobile, Pokemon Go, Marvel Future Fight, Genshin Impact, and others.
Q3. Which Is The No 1 Mobile Game?
PUBG Mobile is known to be the no 1 mobile game with plenty of users worldwide.
Q4. Can I Play GTA 5 On Android?
GTA 5 comes with some high graphics and gameplay, they are only released on consoles. iOS and Android devices are not powerful enough to run the game. So, GTA V is not yet available in Android till now.
Conclusion
If you are looking for the best mobile games to play in 2022, this article is perfect for you. We have handpicked some games for you that can help you get a very good experience. Make sure to go through the list of those games to find out the best ones for you. This article will help you to get brief information about the games.
Choose the best ones among them and play them to find out which one helps you to get the best experience. If this article has made your inner gamer excited, make sure to share it with others. Also, comment down below to help us know your thoughts.
More Resources: